Yes, that is Callum Katz, teenage greaser turned dutiful boyfriend, finally finding the happiness he never found as Nervous. I know everyone uses Maxis Sims as their townies nowadays, but I never thought they'd be getting married in so soon! It's the first generation and I already have Nervous in one of my families, all without me really having to force it!
More random updates from my literary prosperity hood underneath the cut. I may never update with their adventures, but hey, I'm having a blast playing it.
(
don't turn away, it's just there's nothing left here to say
Collapse
)
I'm always so late with these things, but this is just a heads up to let you guys know I'm alive. I stopped playing the game for a few months during school but I had to share these pictures that just broke my heart:
Current Mood:

calm

Current Music:

Mika- Happy Ending
I, like every Simmer out there right now, am a little obsessed with Fortune and Romance, Skell's amazing Pleasantview Prequel story. She's made me love a few Sims I had ignored previously, like: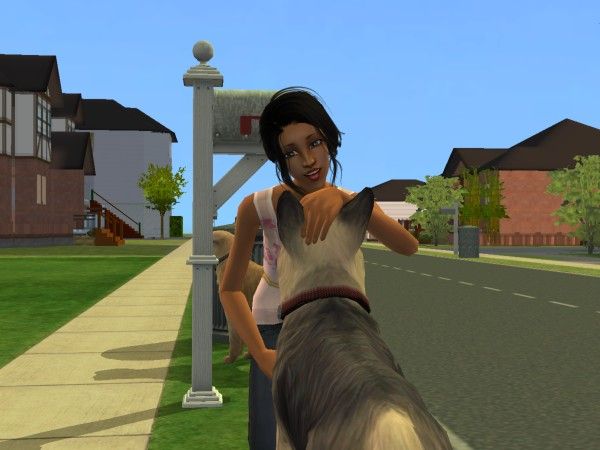 Rainelle Neengia.
I wanted her in Elmira, but she's against Prosperity rules at this point so I came up with a compromise: she'd be my dog breeder. You can see she has a female German Shepherd named Agape and a Golden Retriever named Lentil.
More under the cut!
(
it's all in my head
Collapse
)
Two updates in one day?! I know, I know, but I want to get this off my desktop so blah.
Current Mood:

chipper

Current Music:

The Killers- Mr. Brightside
I've been really into my TS2 prosperity lately. I went a little crazy creating townies out of Premade Sims but I can't help that I love them and want their genes in my families! I think the months of not playing TS2 kind of ruined my ability to create unique looking Sims, or maybe I was just too lazy to do it properly? Either way, my prosperity Sims are... not cute.
Current Mood:

accomplished

Current Music:

How to be a Heartbreaker- Marina and the Diamonds
But I REALLY liked my Sims. I got attached to them and their names and their backstories, so I did what any insane person would do: installed ALL of my Sims 2 games and expansions and decided to do the exact same prosperity with a game I knew how to play.
Crazy, right?
Anyway, I'm back to playing The Sims 2. Some pictures of the townies of my new town/city (I'm trying to recreate the separate suburb/city area without having to attach a downtown). The game makes it so hard to decorate a town properly. If there's one thing TS3 EXCELS at it's making gorgeous "worlds".
Warning: Pictures taken with the in game camera below the cut. THE COMPRESSION.
(
sir, please, a nickel before I die
Collapse
)
Or: a study in indecision. A month ago I posted that I was REALLY into The Sims 3, I was playing like mad, and made it to round 8 in my prosperity before I got bored by how unnecessarily difficult the game was to customize the way I wanted it to. Maybe I didn't do it right, but when my Sims started dropping their wishes on switch I was over it.
Current Mood:

cheerful

Current Music:

Angus Stone- Monsters
Aperture Valley
& Boreal Springs, both by QUEEN Mao
, Prosperity Falls
, my FAAAAAVE Ts2 one,
Stories from the Lakeside
and
Plymouth Falls
for an idea of why they slay) and I LOVE playing them (see: my SVR and failed attempts at playing Pleasantview and Kodak prosperity style).
I just enjoy watching a neighborhood grow. After watching for a while and learning from the masters which hacks to use, I decided to give my own a go.
Also, bear with me while I find a good editing program for my pictures. They're ugly rn but I swear my graphics are good.
Under the cut are my starting families for Elmira. I'm using
Elmira City
from MySimRealty because they have both a city and a suburb and it doesn't require WA, my least favorite expansion.
(
3 families! 10 Sims! 4 hair colors!
Collapse
)
So, a short intro. I'm not really around much anymore, since LJ is pretty dead (or at least all the people I'm friends with are gone, scary thought!) but I'm still actively playing The Sims 3. I play pretty much every other day, and I'm on generation 5 of my legacy and pretty far into a prosperity. I LOVE prosperities, you guys. I love reading them (See:
Current Mood:

creative
other
game. Oop. I honestly just wanted to post this because The Sims 3 is so bizarre that this post kind of created itself? The name is because I liked the alliteration of Barbara and ballad.
Also, be warned that my pictures are gross because I don't have a photo editing program and I'm using the in game camera. I literally only resized these with Paint. *sobs*
I still know how to ramp up the drama so we'll start at the conclusion- that's Barbara Langerak, witnessing the death of her mother, Kaylynn.
more under the cut.
(
you are forgiven.
Collapse
)
So I'm back with my first update in like a million years, and I'm posting about the
Current Mood:

pensive

Current Music:

Deb Talan- Forgiven


I hope everyone is alright out there.
I don't think I'm ever really going to be back on LJ, but I wanted to post that I AM alive, and I DID finally get a new computer. The Sims 2 is gone, but I've been plugging away at TS3 for about 2 weeks now. It's... difficult.


So, yeah. Feel free to unfriend, I won't update anything anymore because nothing exists. I can't even post the final updates of the SVR because the pictures were on HERA as well. It happened months and months ago, but yeah. I suck at updating. School and RL kind of took over.

I loved every minute of being in this community and playing the game, you guys. I plan on getting a new desktop over the summer, and I still have The Sims 3, so who knows. Maybe I'll be back? But for a long while, so long. Farewell. Auf Wiedersen, goodbye!
This is a little anticlimactic. I disappeared forever ago and I've been postponing this update because it upsets me so much, but everything is gone. My big computer, my desktop, (HERA) died a few months ago. The motherboard is fried. I have an external harddrive but I never moved my Sims stuff because I don't have the base game- a sorry excuse, since I can buy it easily, but I was kind of stupid about it. I didn't think I'd be so upset about it until it happened. My legacy, my story, everything I played for for 4 years is gone. I'll get over it, but I really did love those little pixels.
Current Mood:

distressed

Current Music:

Regina Spektor- Somedays
Here they are, in all their blue glory:
(L-R: Erimentha, the heiress, Evrotas, Enyo, Minerva Belle, Eurus and Eris)
Don't worry, they're not all important. After their Sophomore Year I moved Minerva Belle, Eurus and Evrotas out because they bored me.
As usual, click the cut for more.
(
9 pics beneath the cut, a short one!
Collapse
)
Ever since I decided to start playing my Legacy again I've been BLAZING through. In like 4 days I finished their teenhood and played the Generation 5 kids through college.
Current Mood:

accomplished